Top 10 Vintage Designers! | Fashion Clothing | Popular Designers of the past
Posted on 22/12/18
Okay so welcome to the top 10 vintage designers, if you have any other suggestions, you are more than welcome to comment below.
Let us start with,
 1. GABRIELLE "COCO" CHANEL
Chanel in 1920
Personally she is my number one vintage designer due to her past and how she turned her life around; also she created a legacy that still is alive and kicking today!
1883, Born in Saumur, France, on August 19 as Gabrielle Bonheur Chanel.
1910, Opens a milliner's studio in Paris.
1911, Opens her first fashion house in Paris.
1921, Launch of the perfume Chanel No. 5.
1924, Presents first costume jewelry.
1926, Creation of the "little black dress."
1939, Closes her fashion house.
1954, Re-opens business and a comeback with the tweed suit.
1971, Dies in Paris on January 10th. Rest in peace.
 2. GIANNI VERSACE 
Versace in 1982
1946, Born in Reggio Calabria, Italy, on December the second.
1964, Learns couture in his mother's studio.
1968, Indepedent fashion designer for various Itailian manufacturers.
1978, Founds the Gianni Versace label and presents his first collections for women and men.
1979, Opens his first boutique in Milan.
1981, Launch of his first perfume, Donna.
1989, Introduces the secondary line for young people, Versus; and in the U.S the V2 By Versace line, the classic Signature line, and the home Signature furnishing line.
1997, Shot in Miami Beach on July 15 (Rest in peace.); sister Donatella Versace carries on the label.
 

3. 

CHRISTIAN DIOR
Christian Dior on a 2005 Romanian stamp
1905, Born in Granville, Fraance on January the 21th.
1920, Attends Grande Ecole Science Po in Paris.
1928, Opens an art gallery in Paris showing works by De Chirico, Braque, and Leger.
1935, Sells designs to Paris fashion houses and creates illustrations for the newspaper Le Figaro.
1938, Appointed designer at Robert Piguet.
1942, Fashion designer at Lucien Lelong.
1947, Shows the first collection under his own name.
1949, Founds Dior New York Inc. and opens a store in New York.
1957, Diesin Montecatini Terme, Italy, on October the 23th. Rest in peace.
 4. ISSEY MIYAKE
Miyake Issey portrait by Brigitte Lacombe
1938, Born in Hiroshima on April the 22nd.
1970, Establishes the MIYAKE DESIGN STUDIO in Tokyo.
1971, First overseas collection is shown.
1973, Participates in the Paris Autumn.
1983, Presents the exhibition Issey Miyake Spectacle: Body- works in Tokyo, Los angeles, San Francisco, and London.
1988, Starts experimenting with pleating.
1993, Launches PLEATS PLEASE ISSEY MIYAKE.
1998, Embarks upon the A-POC project. 
1998, Presents the exhibition ISSEY MIYAKE MAKING THINGS in Paris, New York and Tokyo.
2006, Opens 21_21 DESIGN SIGHT  in Tokyo and is appointed as one of its directors.
5. GIORGIO ARMANI
1934, Born in Piacenza, Italy, On July the 11th.
1957, Window dresser and soon after-ward fashion buyer for the Milan department store La Rinascente.
1961, Asssitant at Nino Cerruti.
1975, Founding of Giorgio Armani S.p.A. with Sergio Galeotti in Milan.
1980, Costume designer for Ricard Gere in the film American Gigolo.
1982, Launch of his first perfume, Armani.
1985, After the death of Sergio Galeotti, (Rest in peace.) Aramni takes over his share in the business.
2005, Founding of Armani Hotels & Resorts.
6. HUBERT DE GIVENCHY 
Givenchy in 1972.
1927, Born inn Beauvais, France, on February the 21th. 
1945, Assistant to Jacques Fath, Robert Piguet, Elsa Schiaparelli.
1952, Opens haute couture studio.
1954, Personal stylist to the actress Audrey Hepburn.
1955, Launch of his first perfume, L'Inderdit.
1968, Introduction of pret-a-porter collections.
1988, Business acquired by the LVMH group.
1995, Retires from the fashion business.
 

7. 

CRISTOBAL BALAENCIAGA
Cristóbal Balenciaga in 1950
1895, Born in Guetaria, Spain, on January the 21th.
1919, Opens a fashion house in San Sebastian.
1937, Opens haute couture house on Avenue George V in Paris.
1947, Creation of the perfume Le Dix.
1955 Design of the first tunic dress.
1958, Awarded the French Legion d'Honneur.
1968, Design flight attendants' uniforms for Air France.
Closes his fashion house in Paris and returns to Spain.
Dies in Valencia on March the 24th. Rest in peace.
8. JEANNE LANVIN
She was born in Paris on the 1st of January 1867.
Opens a hat shop in the 1889.
In the 1908's she adds children's clothes to the business.
Then in the 1909 she add's Women's clothes to the business.
Next in the 1920's a home decorations line is introduced.
1923, building of a dye factory in nanterre and introduction of a sportswear collection.
1924, opens fashion boutiques in Cannes and Le Touquet and a perfume shop in Paris.
1925, creation of her first perfume, my sin.
1926, presents the first men's collection.
1946, dies in Paris on July 6th. Rest in peace.
9. Madeleine Vionnet
Madeleine Vionnet at work, early 1920s.
1876, Born in Chilleurs-aux-Bois, France, on June 22.
1888, Begins tailoring apprenticeship at age 12.
1891, Cutter and director of couture in the Callot Soeur fashion studio in Paris. 
1896, Runs a tailoring business inn London.
1907, Director of couture Jacques Doucet.
1912, Opens her own salon in Paris.
1923, Invents bias cutting.
1940, Closes her salon after the outbreak of world war 2 and retires to a farm in Cely.
Dies in Paris on march the 2nd. Rest in peace.
10. MAIN BOCHER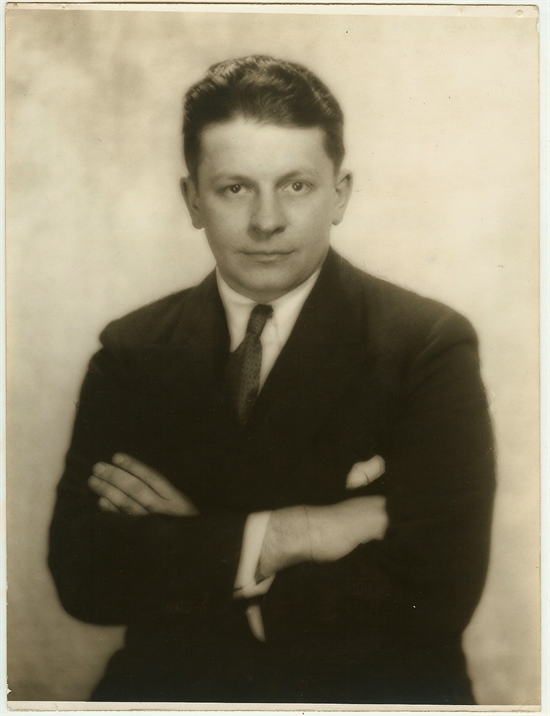 Fashion Designer Mainbocher by Man Ray.
1890, Born in Chicago on October 24th as Main Rousseau Bocher.
1907, Studies art in Chicago, New York, Munich, and Paris.
1917, Military service in Paris.
1917, Fashion illustrator for Harper's Bazaar in Paris.
1922, Fashion correspondent and later editor of French Vogue.
1929, Founds a fashion house in Paris.
1940, Moves his business to New York.
1942, Designs uniforms for the U.S Navy.
1976, Dies on December the 27th. Rest in peace. 
So that sums up my, Top ten vintage designers, what did you think of the list? Did you learn anything interesting? 
Well I hope you enjoyed reading this post!
                        Check out some of our designs  
Until the next post, See you later!